Jun 25, 2021
Roadmap 2021 & New Landing Page
Announcing our roadmap for 2021 / 2022, release cycle plans and new landing page.
Team Update
It has almost been a year since we originally launched our new ReScript brand, and we think it has been a pretty successful journey so far:
Brand new documentation experience

Relaunch of rescript-react and its new docs

Release of our re-imagined VSCode & Vim plugins

New syntax, compiler and build system improvements, including incremental build performance at scale

Improved interop with polymorphic variants for numbers and strings

Accessible object system (no need for Js.t)

The release of our new rescript npm package and cli to replace bs-platform

Making every part of ReScript fully community owned

etc.
Stay tuned, this is just the beginning!
New Roadmap and Release Cycle Plans
We had some thorough discussions about the future of the project and outlined the most important milestones for the next upcoming releases.
Here's the gist:
Two release channels: stable and experimental

More predictable release dates and better migration steps

Better communication and discussion for breaking changes

Help the community / companies align on major stable versions
The detailed roadmap with all our planned changes (and definition of our release cycle plan) can be found in our community / roadmap section.
New Landing Page
After several iterations, we are happy to announce our new landing page.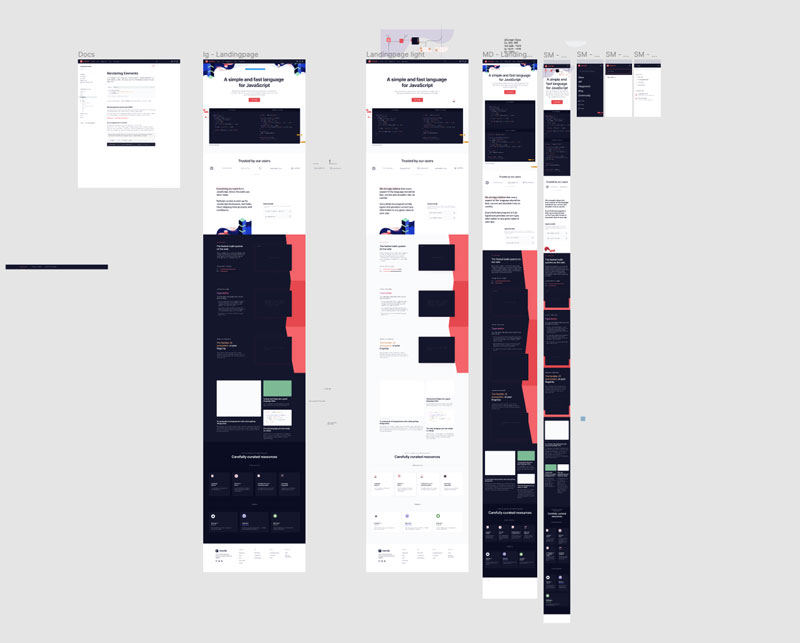 Figma design draft for the new landing page
This is an incredible milestone for the documentation, and will act as a foundation for some cool new future improvements, such as:
Highlighted Case Studies from production users such as Beop or Rohea

An interactive playground widget for the headline code examples

New starter templates and guides
Furthermore, in case you are a production user of ReScript and you want to see your company logo highlighted on the landing page, please open an issue and let us know!
Happy hacking.